Did you know that the Grand Canyon is the 7th wonder of the world, and it is right here in our own backyard? This three-day event will take us to Kaibab that borders the North Rim of the Grand Canyon. This will be a breathtaking event like no other and each ride will take you to see different scenic parts of the Grand Canyon.
UTV Offroad Adventures presents North Rim UTV Fun Run. You won't want to miss this weekend filled with tall pines and aspen trees! We will provide guided trails, meals, quick draw poker, corn hole tournament, raffles, and lots of fun, laughs and good times. Designed for all age groups and UTV experience. Come and see what we are all about and meet new and old friends. We will take you on a night ride and guided trail rides all while raising money for local charities.
This event will take place on the North Rim of the Grand Canyon which is a hidden treasure. Most people visit the South Rim and never get to experience what the north rim has to offer. One of the stops will be Bright Angel Point which is one of the most scenic areas on the north rim. Over 1,000 feet higher than the South Rim of Grand Canyon, the point offers an excellent view of Bright Angel Canyon to the east, Transept Canyon to the west, and the intensely carved erosional formations within the canyon that are characteristic of the North Rim. On quiet days, you can hear the Roaring Springs below, within Bright Angel Canyon, gushing out of a cliff face 3,100 feet below the rim. A sharp eye can spot the power lines that run down to the spring, which power pumps fresh water back up to the North Rim.
We will also be taking a breathtaking ride on Point Sublime Trail. This trail is great for off-road driving and will be rewarded with an unprecedented view of the Grand Canyon. This trail is not travelled by many so the chances are low that you will not see others exploring. The question most asked here is "why are you whispering"? The breathtaking views will answer this question.
Another spot will be visiting is Saddle Mountain which provides extensive views of the colorful canyon walls. This extinct volcano juts up from the edge of the North Rim of Grand Canyon, offering some amazing views. You can see the eastern Echo Cliffs, Vermilion Cliffs to the north and Marble Canyon. These clear views are simply inspiring.
Be sure to register online and we can't wait to share this adventure with you.
Happy Trail Riding
News:
Cabins are sold out! There is an RV park right next to the event reserve your spot now make sure the spot is big enough for your RV
https://www.recreation.gov/camping/campgrounds/234722
You can stay in Jacob Lake which is 27 miles away. This is their website to reserve a spot.
You can leave your UTV at Kaibab Lodge so you don't have to drive it on the HWY back and forth from Jacob Lake if you stay there. https://www.jacoblake.com/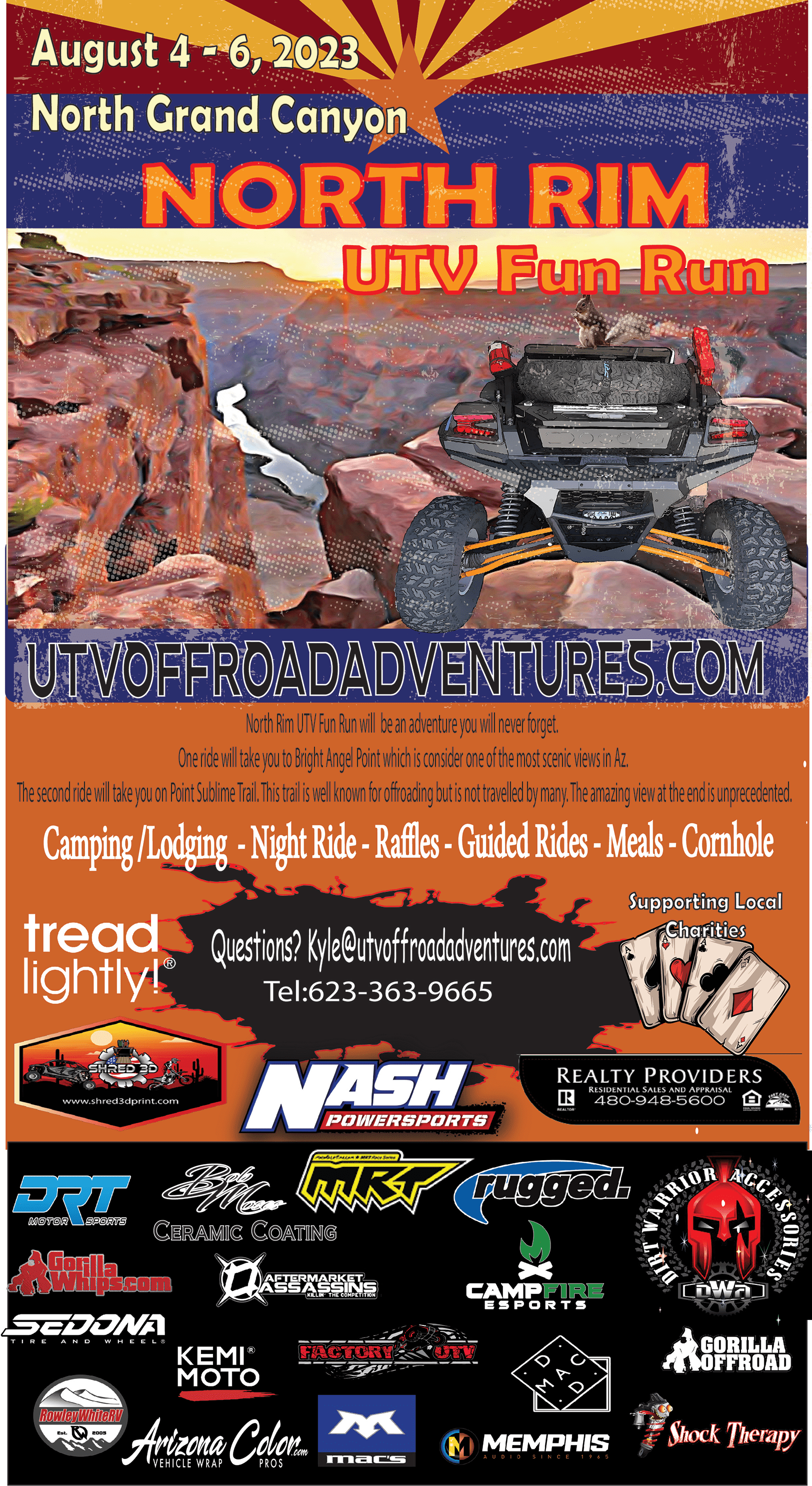 We had a great time pre running the North Grand Canyon for one of our UTV Events we will be putting on in August 4-6 2023. This will be the BEST event we have ever had in my opinion. You will need to reserve your cabin ASAP because there are only 30 of them at the Lodge where all activities will take place..
Reserve now by calling the https://kaibablodge.com/cabins/
We have blocked the entire place but if you do not get your cabin soon you will miss out.
2023 Schedule